Nick Pert leads our new style training
We are delighted to announce that Grandmaster Nick Pert will be getting our new look training off to an exciting start on 11 October! The day will be a mixture of graded games and focused coaching in small groups. More details here. Enter and pay online here.
North Bridge House and NLCS triumphant
North Bridge House School won the Under 9 Jamboree and North London Collegiate school won the Under 11 Girls Jamboree held at Brookland Junior School on Thursday 18 June. In Russell Fell's final match before retiring as manager of North Bridge House chess, his team ran away with the Under 9 event winning by 2.5 points from second placed North London Collegiate who were just half a point ahead of hosts Brookland who took bronze. The girls' event was a clear win for North London Collegiate who scored a maximum 12 points out of 12. St Paul's NW3 were second and Channing third.
Barnet completes the set with Under 11 Title

Wow! In the final instalment of county chess there has been yet another amazing day! On 9 May the Barnet under 11 team travelled to Nottingham for the Under 11 national finals. It was great to have so many of our long term players on the coach we had hired to get us all there. There was expectation in the air and our team had been looking promising for a number of months. 16 teams with 24 players each and a few hundred games of chess would decide who would be crowned national champions.
After the first round we had scored 15/20 and we were in joint first place with Kent, Wey Valley and Oxford. We knew that we would have to improve on this solid round to pull away from the pack. Round 2 came and we managed to score 17.5/20 - an excellent score. We nervously looked to see how many points the other teams had managed. Our rivals from the zone, Kent, had also managed 17.5/20; it was like the zone all over again! The final round came and another 15.5/20 left us waiting anxiously to see our final placement. It all came down to the last couple of games where we discovered that Kent had also managed 15.5/20! In the qualifying zone we had managed 49/60, the same as Kent (we then won that day on tie break), now in the final we had scored 48/60 - equal with Kent again! 120 games for each team and our score remained identical - The closest final I have ever seen! Everybody went in search to see what the tie break rules were - the titled was to be shared! A fair result and our congratulations to Kent as well.
This meant we had played and won all 5 of our EPSCA county events this year. the Under 9 Zone, The Under 11 Zone, The Under 9 final, The Girls final and the Under 11 final. In doing so we had also completed the treble, only the second county to ever do so. We had also managed to achieve the perfect score of 60/60 to win the Audio Grand Prix which measures the best over all county for the year.
Congratulations to all our players and my thanks to all their hard work over numerous years.
Results in detail are here.
Report by Tony Niccoli, Under 11 Team Manager
Clean Sweep for Barnet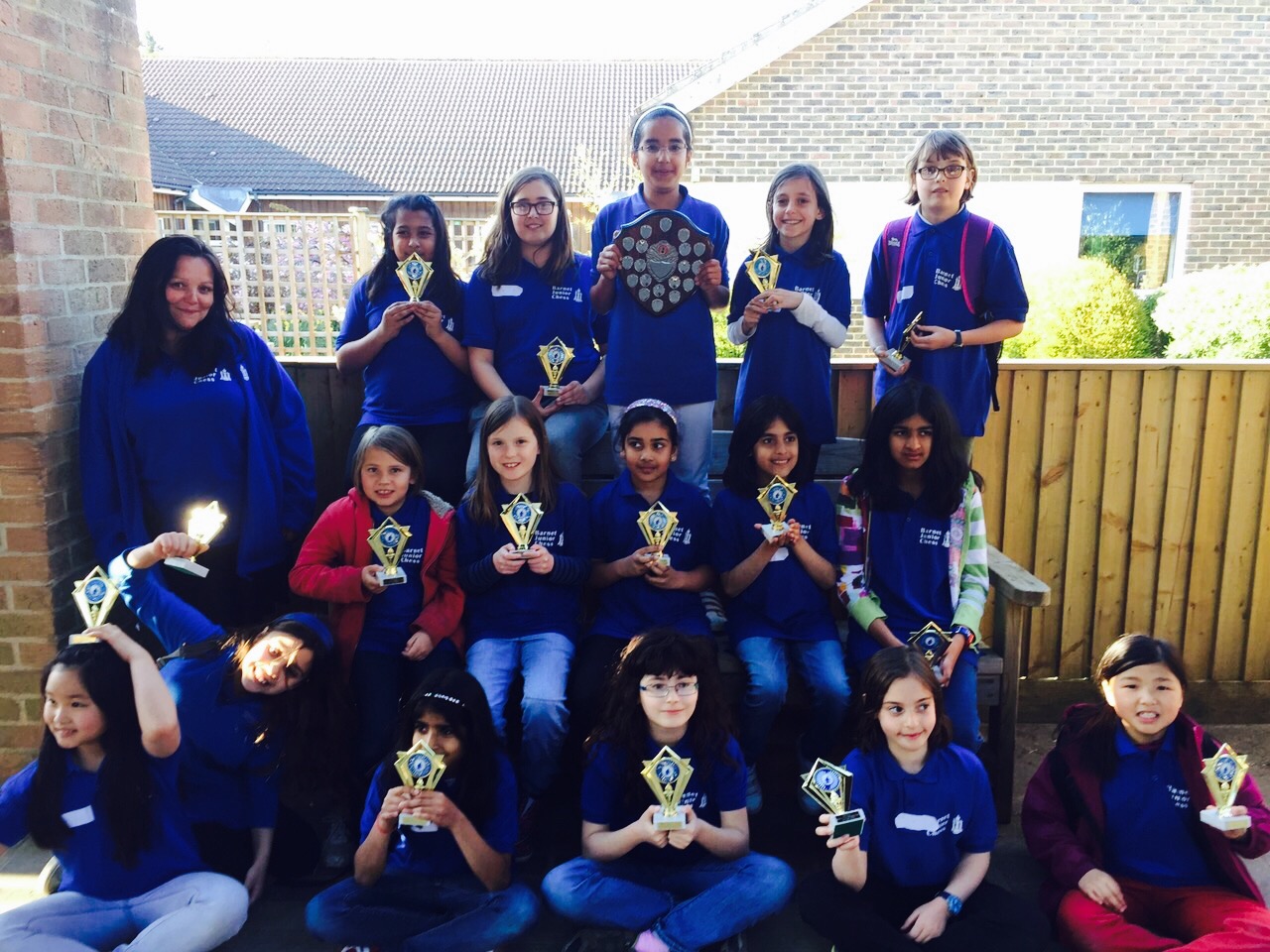 Barnet teams have won all three national titles - the national girls' Under 11 team championship, the national Under 9 team championships and the national Under 11 team championships. All of these competitions are organised by EPSCA (English Primary Schools' Chess Association). The girls' event was held on 18 April in Gloucestershire and the Barnet team (pictured above) gained 31.5 points out of 36 in the three round competition with Kent 2.5 points behind in second place. Our Under 9 team followed this up on 25 April with victory in their final held in Northampton. They finished with 30.5 points out of 36, comfortably ahead of Cambridgeshire who were second with 28 points! On 9 May our Under 11 team completed the set for us, sharing the title of National Champions with Kent! Detailed results are here.
Thrilling Under 11 East Zone won by Barnet!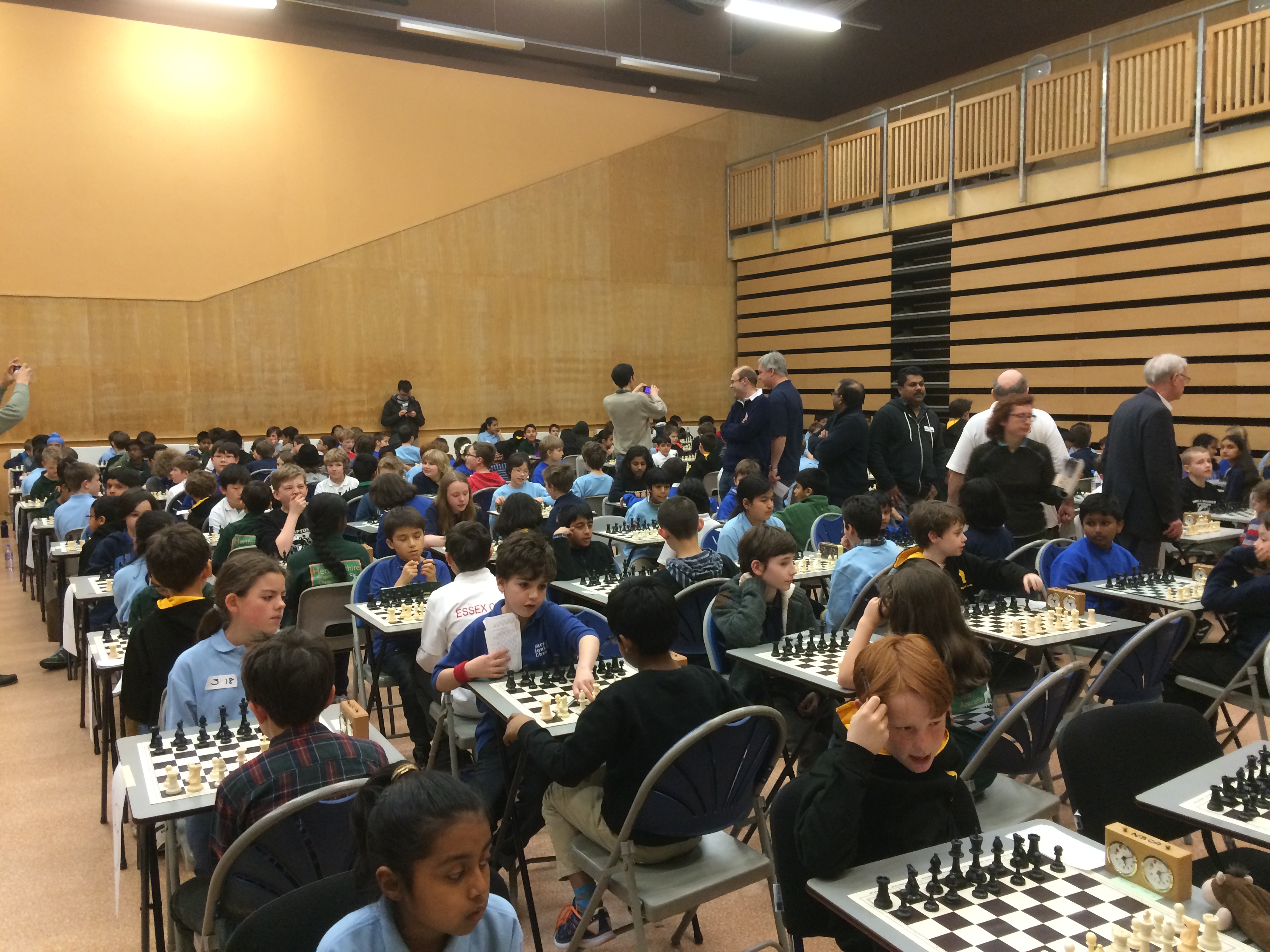 The zone stage of the EPSCA Inter-Association Under 11 Team Championships took place on Saturday 21 March in Northampton. We took 26 players to take part against 9 other counties. After the first round there was just half a point separating the top three teams, it didn't look like it could get any closer but it was just about to...! By the end of the day we had managed to score a magnificent 49 points out of 60! However a strong Kent team also managed to score a mighty 49! It was tie break time and this was to be decided on the number of wins, where the team with more wins would take home the gold medals. Barnet had managed 47 wins and 4 draws, Kent had managed 46 wins and 6 draws - so Barnet won on tie break! A great performance by the team and we very much look forward to the finals on 9 May in Nottingham.
Barnet Under 9 team wins East Zone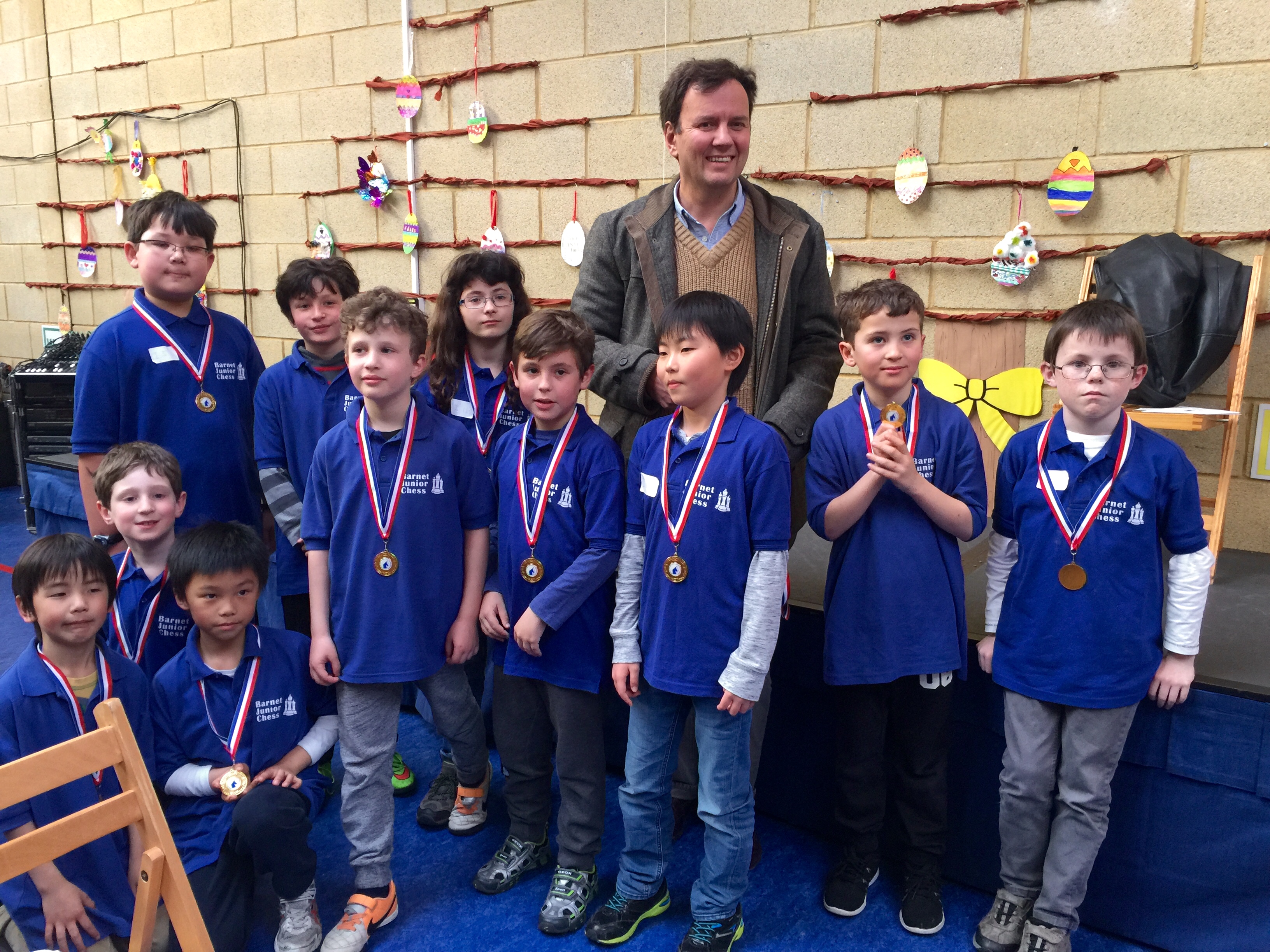 The Zone stage of the EPSCA Inter-Association Under 9 Team Championships took place on Saturday 14 March at Twickenham Preparatory School.
It was an exciting day; Hertfordshire were leading after the first and second rounds, but a tough final round saw the BJC team sneak ahead to win the Gold medals. We are through to the Finals, taking place in Northampton on 25 April.
My thanks to Peter Sowray and the Richmond hosts for a well run and enjoyable afternoon of good chess. All the results are here.
We hear that Sussex and Nottingham won their zones so we know who to watch out for in the Finals!The under 9 team will be meeting with GM Hawkins to prepare for the Finals on 12th April at the BJC training day.
BJC teams ready for national stages
The EPSCA Inter-Association Championships kick off on 14 March with the Under 9 zone. Then it's the Under 11 zone the week after and the Girls' Under 11 Final just after the Easter holidays. The teams have been selected and all of them have 'warmed up' with practice matches. The girls' team won a five-county match, two Barnet Under 9 teams came 4th and 5th in a 9 team practice match and our Under 11 team won a four-county match. Good luck to all our teams in the challenges ahead!
BJC Girls' Individual Championships
The event was a great success. Here are the cross tables:
Under 9 cross table
Under 11 cross table
Congratulations to:
Sarah Weersing (Under 14 event winner), Ruriko Ojima (top Barnet Under 14 and top Middlesex Under 14), Anaya Popat (Under 11 event winner and top Middlesex Under 11), Anisha Sawhney (top Barnet Under 11), Ralitza Vanguelova (Under 9 event winner and top Middlesex Under 9), Jacqui Sanitt (top Barnet Under 9) and Jolanda Herrgott (Under 7 event winner and top Middlesex Under 7).
North London Collegiate won the prize for top school.

BJC Individual Championships
This was a great day at Highgate Junior School. There was a massive attendance. Results available here. More details soon.
The Hall and St Andrew's lead the way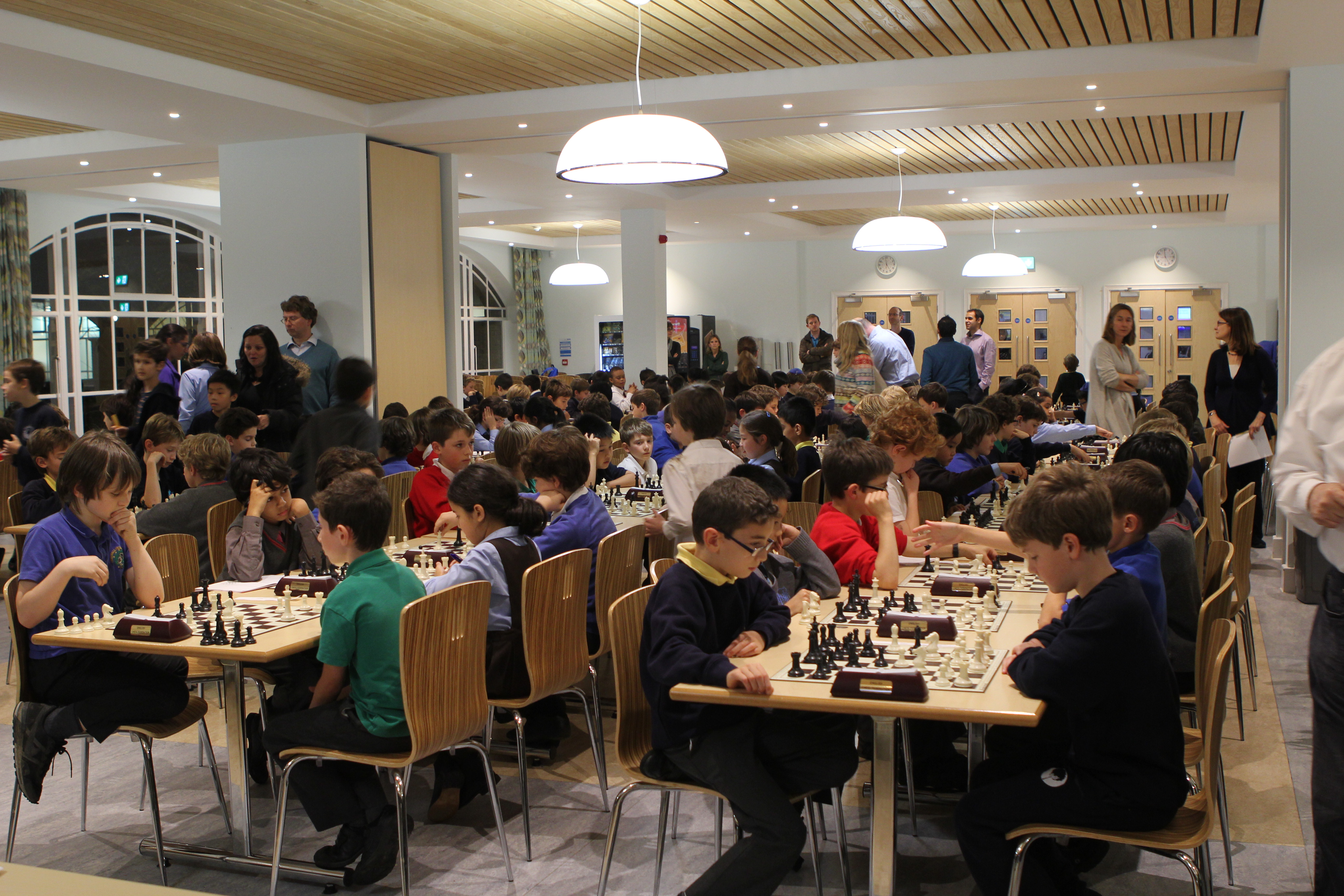 After rounds 3 and 4 of the BJC league, held at North London Collegiate School on 21 January, The Hall continue to dominate Division 1 but Heathside have moved into second place. In Division 2 the lead keeps changing hands and St Andrew's are now just one point clear of Kerem. Read more...
BJC Girls Individual Championships
This will be held at St Paul's CE Primary School, NW7 on Sunday 8 February. Download the PDF entry form here!
BJC Autumn Championships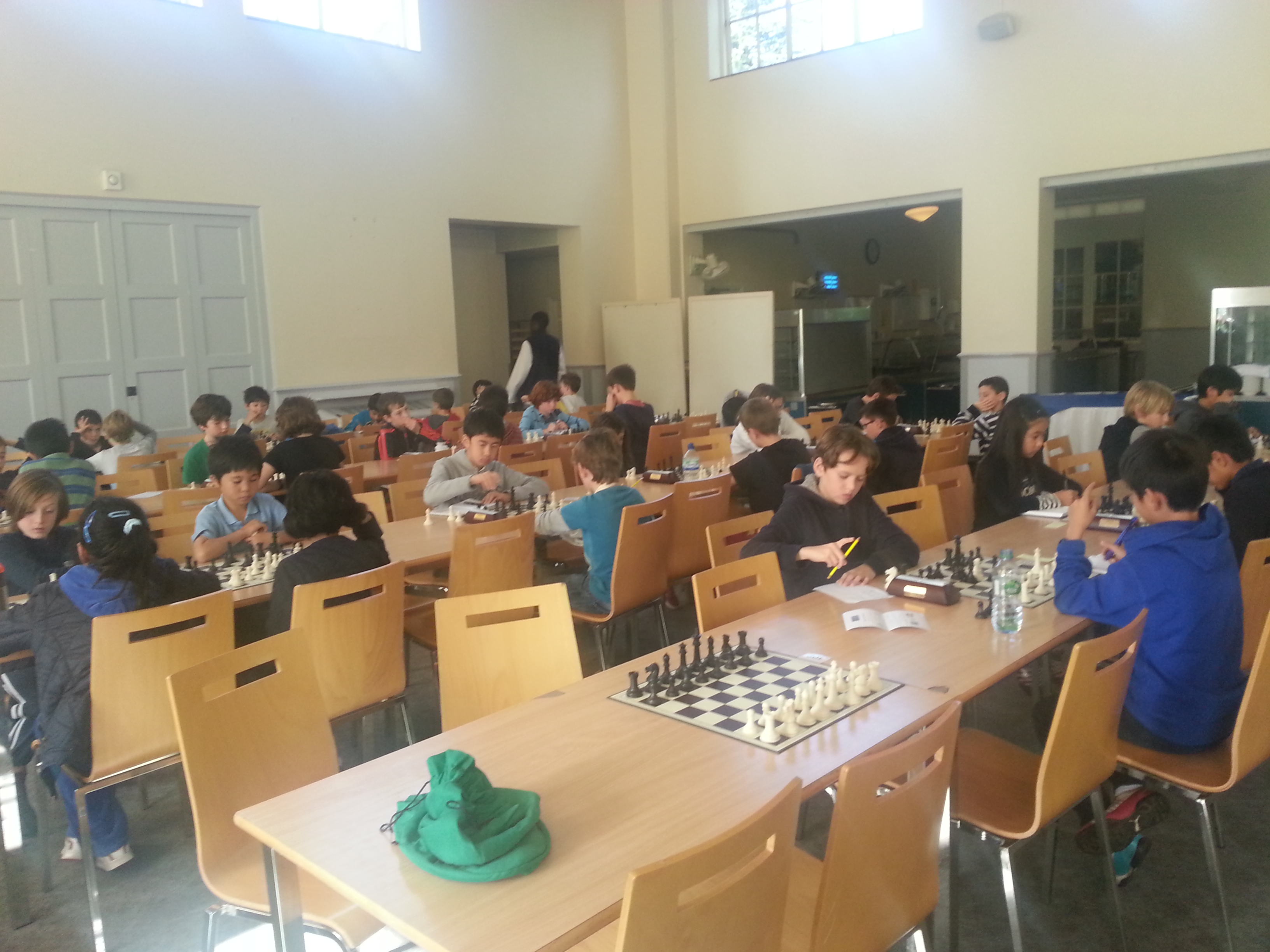 The BJC Autumn Tournament was held for the first time at Highgate Junior School, which proved to be a first-class forum for children, parents and organisers.
AND it was a beautiful warm autumnal day so that the changing hues of the beech trees were shown off to best extent.
The 156 children participating played excellent chess, (and some first-class football as a side-line!)
All the results are here but credit must go to Anton Drel & Suriya Velayudham who tied on 5.5 out of 6 in the Under 8 section, James Hartman with a perfect 6 out of 6 to win the Under 10 section outright and Tai Remus Elliott who finished half a point clear on 5.5 in the Under 12 section. The Under 14 section was a very unusual family affair with twin brothers Gabriel and Reuben Balouka-Myers and brother and sister George and Elizabeth Ivanov all finishing joint top on 4.5 out of 6!

There was also an impromptu parents event, with no fewer than 26 competitors. This was won by newcomer Mr. Joe Monk (who turned out to be an ex-Hampshire player) scoring 5/5. He was closely followed by Sam Dias and Patrick Burns. The International element was shown off by French star Claire Nozieres (3/5). Saad Ali (4/4) missed a round but showed great flair in his victories.

Online entry for BJC training days
Our online entry system is now up and running. You can book for any of our training days this season and pay by card using NoChex. No registration or membership is needed. Dates of our training days: 7 December, 11 January, 1 February, 1 March, 12 April, 3 May, 7 June. More details are on the PDF entry form.
Under 11 team placed fourth in national final
On the 10th May the Under 11 team arrived by coach for the Under 11 EPSCA county finals in Northampton. Our aim was to match the under 9's triumph of winning a few weeks earlier and be crowned national champions. We took 23 players who had a long hard fought out day. It was all to play for going into the last round and eventually we finished with a very commendable 41.5 points out of 60. We came in 4th place out of the 17 that had already qualified to be there. Congratulations to Sussex who won the event. Full results can be found here.
There was one last piece of good news before our coach journey home. The Audio Chess Grand Prix measures the average results from the EPSCA Under 11 team, the Under 9 team and the Girls Under 11 team during the qualifiers and finals. And guess what? Barnet had come equal first and hold the trophy yet again. This concluded a very successful year for Barnet in the EPSCA county events. Bring on 2015!
Barnet players selected for England team
Congratulations to Jason Covey on being selected for England! He joins Dominic Klingher (selected last year) as a member of the EPSCA England Under 11 team.
Barnet wins national Under 9 title!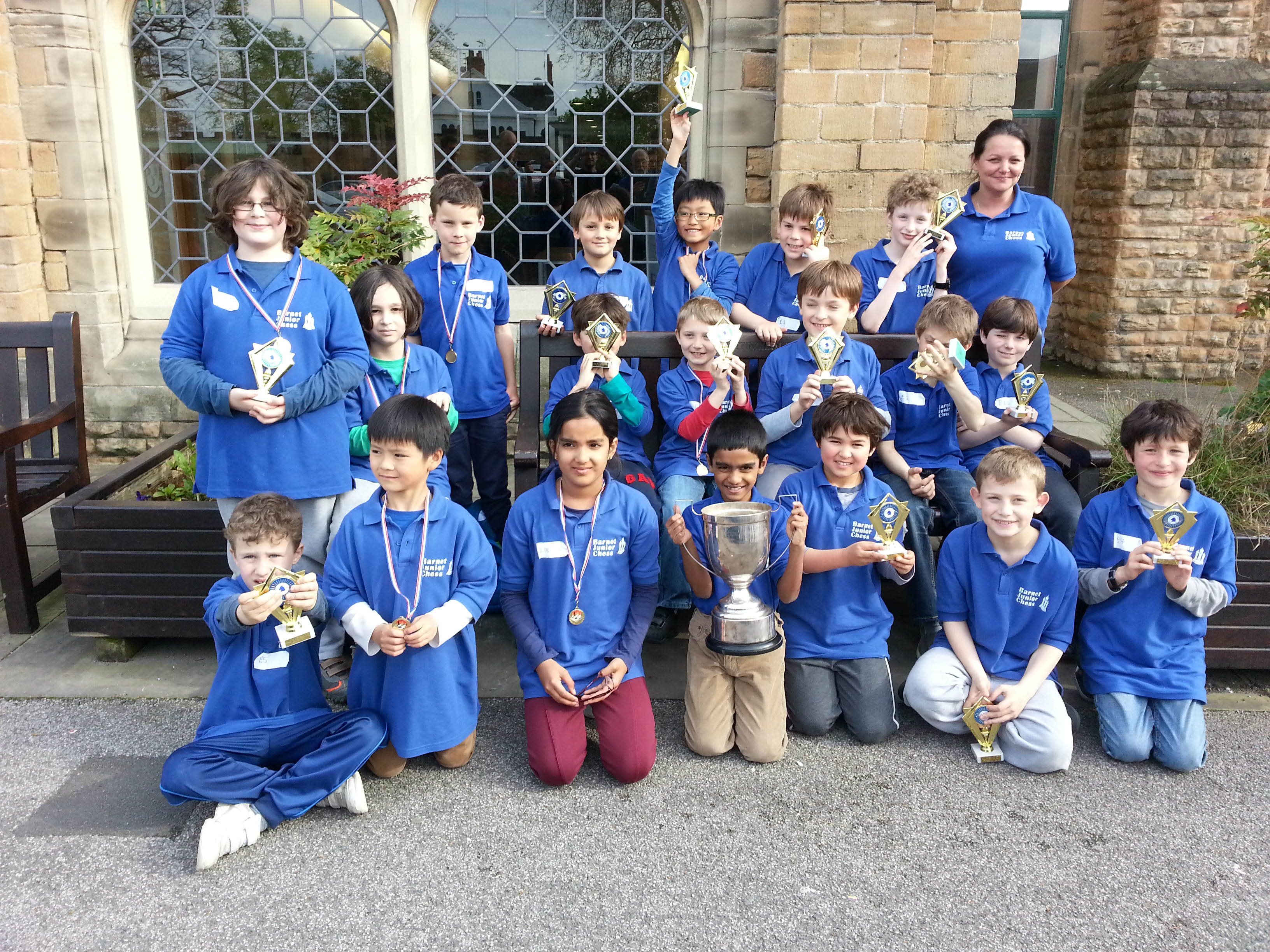 Our Under 9 team achieved a spectacular victory at the EPSCA Inter-Association Under 9 Team Final in Nottingham on Saturday 26 April. Competing against 16 other finalists from all over the country, the Barnet players had won 23 out of their 24 games after the first two rounds! Another 8.5 points in the last round was easily enough to achieve a clear win, 3.5 points ahead of local rivals Hertfordshire who were second. Congratulations to all our players: Aaravamudhan Balaji, Nicolai Woltery, Remy Rushbrooke, Louis Pike, Ezra Brass, Luca van der Lubbe, Noah Shapiro, Elias Gelain-Sohn, Victor Mikheev, Oliver Shaw, Benji Chesworth, Max Marcuson, Han-Sen Choong, Raffy Balouka-Myers, Toby Balouka-Myers, Elias Rosenthal, Evan McDermid, Anisha Sawhney and Yubo Choong. The full results are here.
Training day to have special over 130 section?
April's training day was another success with 31 children having teaching from Grand Master Nick Pert and International Master Vaidyanathan Ravikumar. The photo shows the pair playing a Double Simul at the end of the day to the delight of the pupils.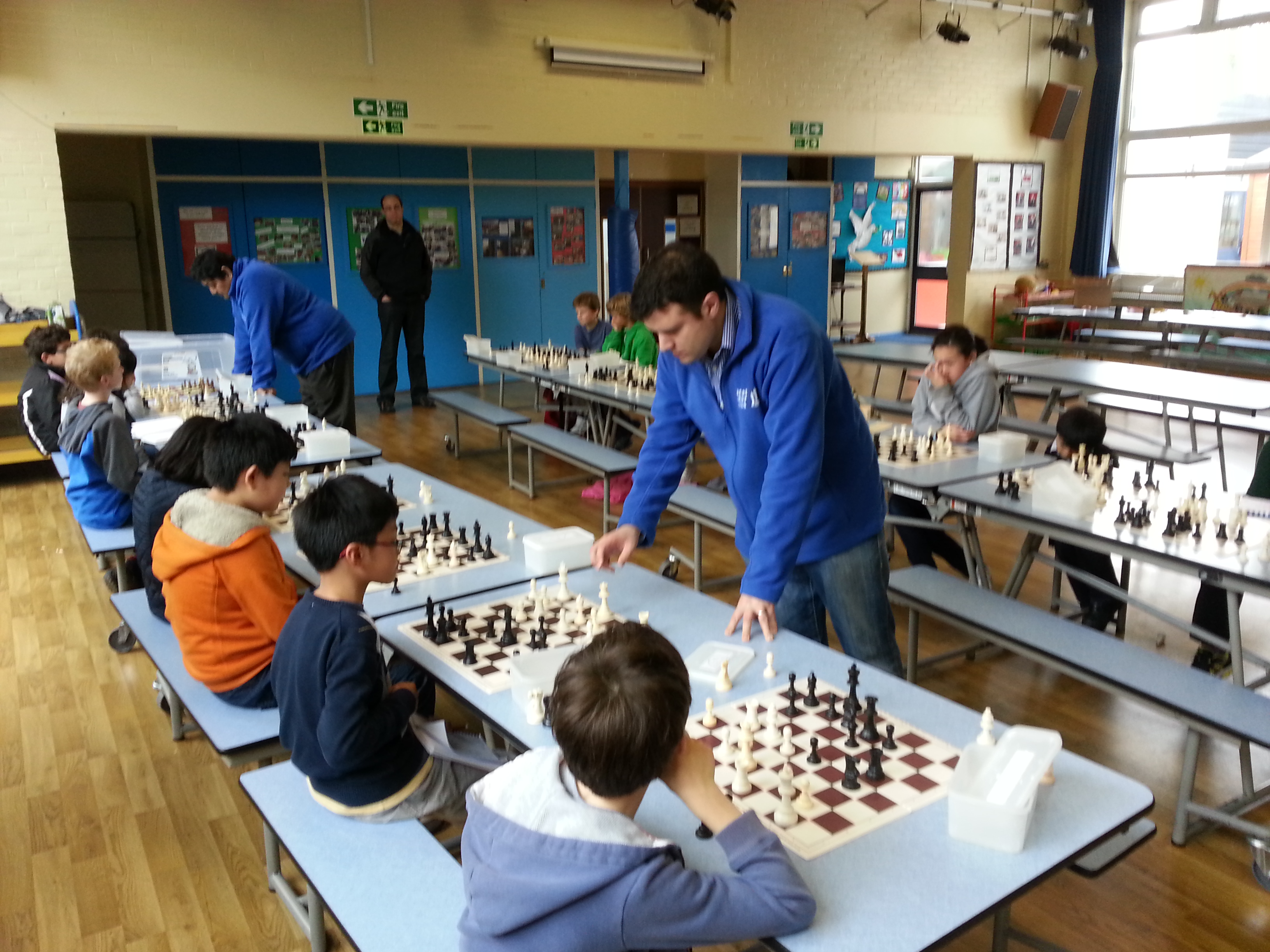 BJC is considering running a Special Section for our very talented pupils with a Grading of over 130 at our Training day on June 1st – we would value feedback on this idea.
Just a reminder – BJC always welcomes children from both Barnet and other Boroughs at our Training days.
Robin Vicary
Girls Under 11 team third in the nation
Congratulations to our Girls Under 11 who took the bronze medals in a tightly contested final held on Saturday 22 March at Didcot Girls School in Oxfordshire! Link to full results.
Under 11 team triumphs at Chingford
Our Under 11 team qualified for the EPSCA Inter-Association final in style, winning the East zone on 15 March by 4.5 clear points. Congratulations to all the children who played and we wish them good luck in the final to be held on Saturday 10 May. Link to full results.
Under 9 team qualify for the final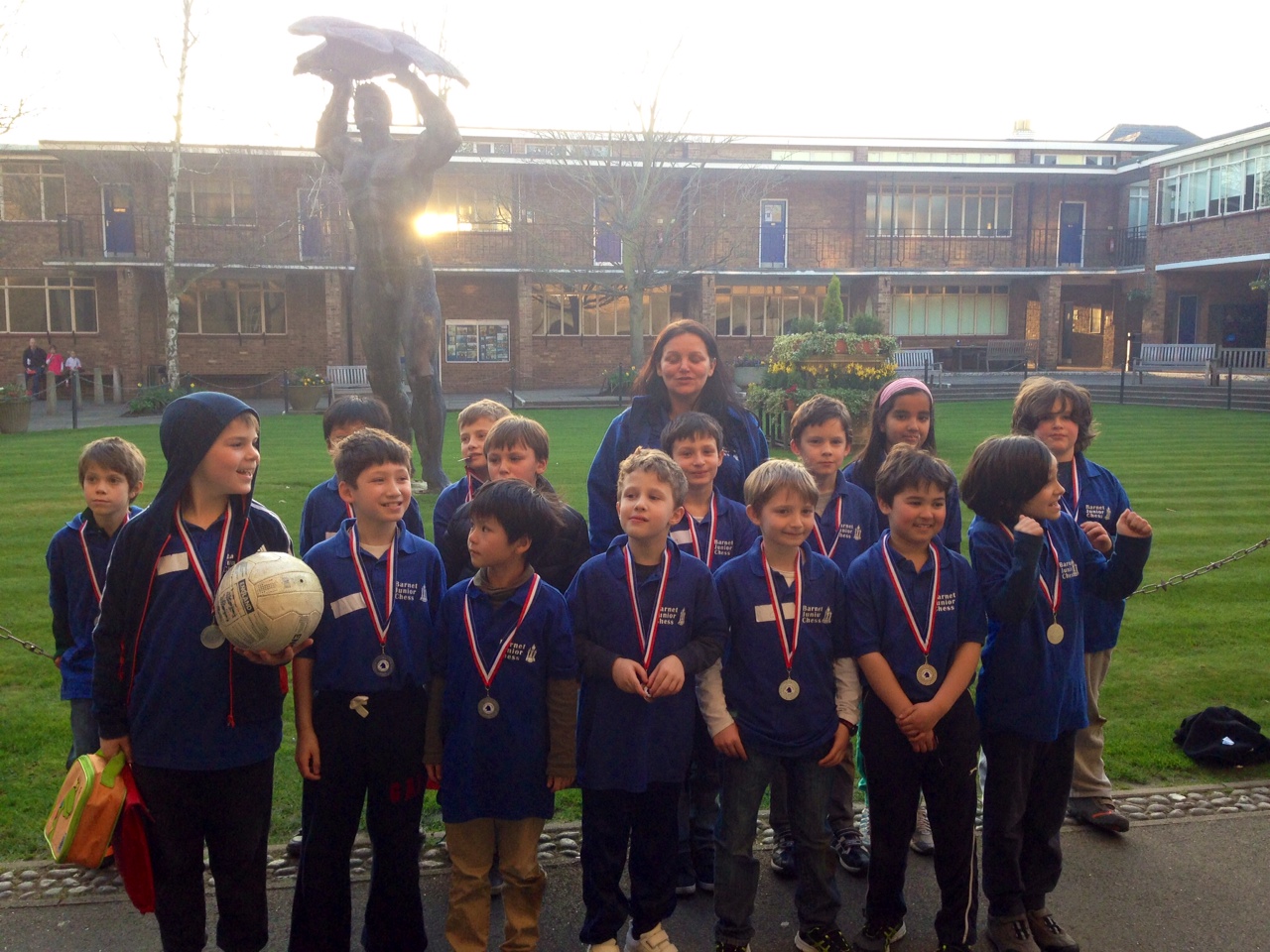 It was a successful day for our Under 9 team as they finished in second place at the Under 9 East zone and qualified for the Under 9 Inter-Association final to be held on Saturday 26 April. Kent, who hosted the zone, won with 25 points and the Barnet team was just 2 points behind. Link to full results.
Akiva triumph in Under 9 Jamboree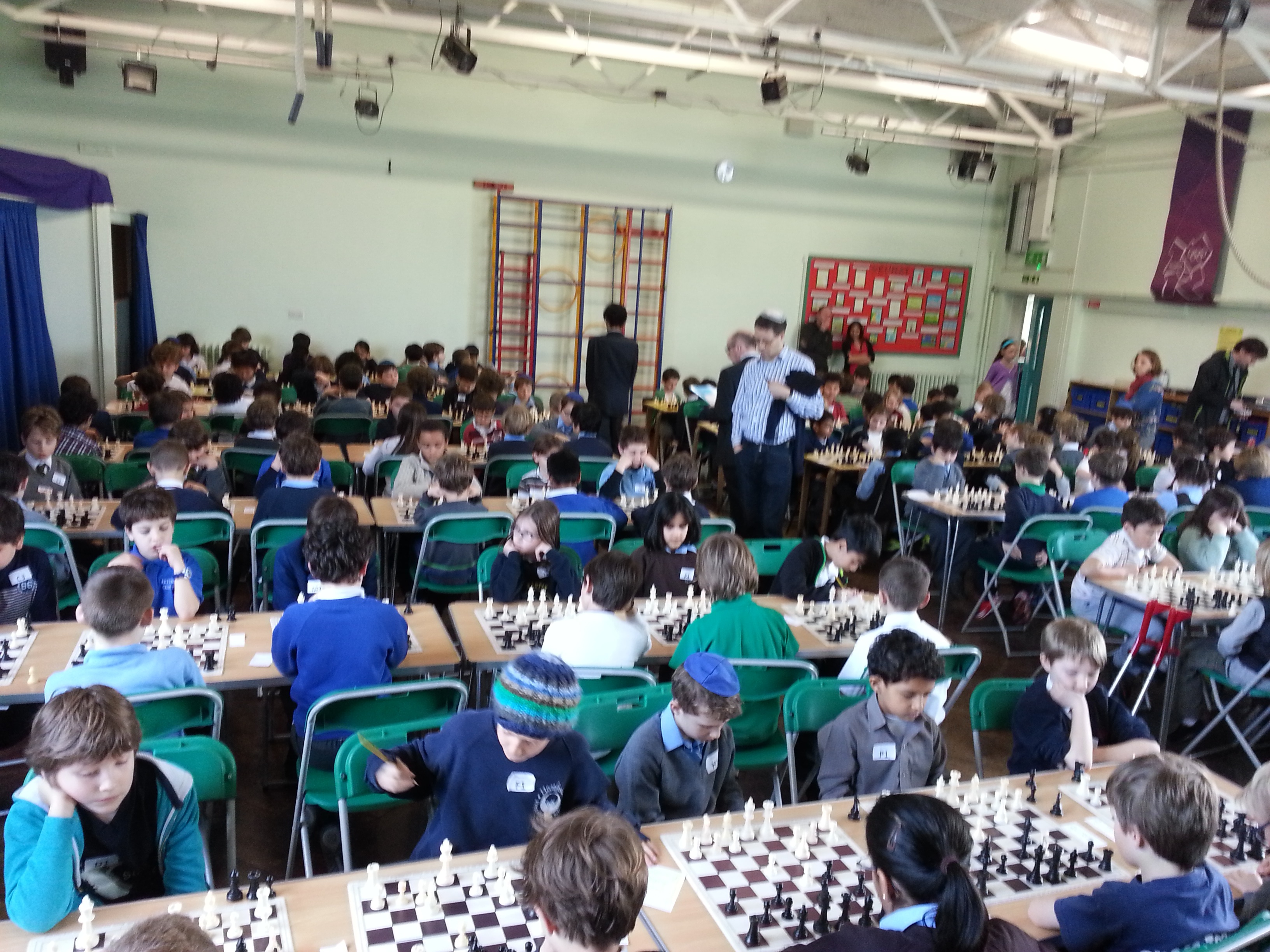 In a marvellous afternoon's chess enjoyed by nearly 150 children the young stars of Akiva School carried away the gold medals in the annual BJC Under 9 team jamboree. Their team of 8 dominated the event from the start, dropping only 2.5 points out of 24. Host school Brookland Junior won the silver medals and the girls of North London Collegiate School took bronze. Read more...
Girls Individual Championships, 9 February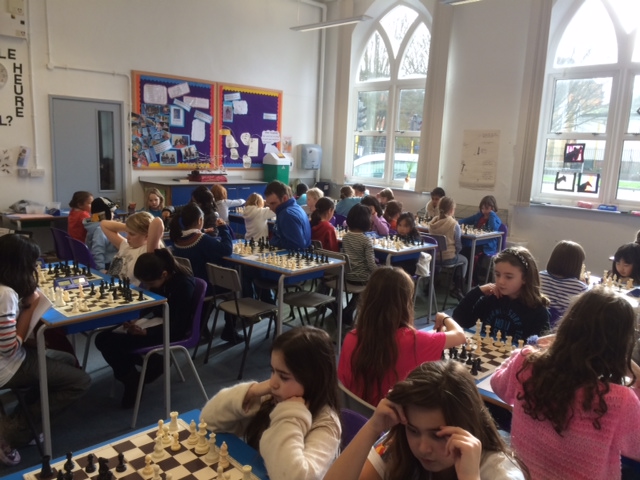 There was an excellent attendance at the Girls' Individual event held at St Paul's CE Primary School, NW7 on Sunday 9 February. There was some superb chess played, not only by the girls but also by parents who played in a special adult section!
Meytal Cohen won the Under 11 section and is also Barnet Champion and Middlesex Champion.
Anum Sheikh won the Under 9 section (Barnet and Middlesex Champion: Jacqueline Sanitt).
Amelia Pike won the Under 7 section and is also the Middlesex Champion (Barnet Champion: Jolanda Herrgott)
The schools' prize was won by Channing with an impressive 19 points.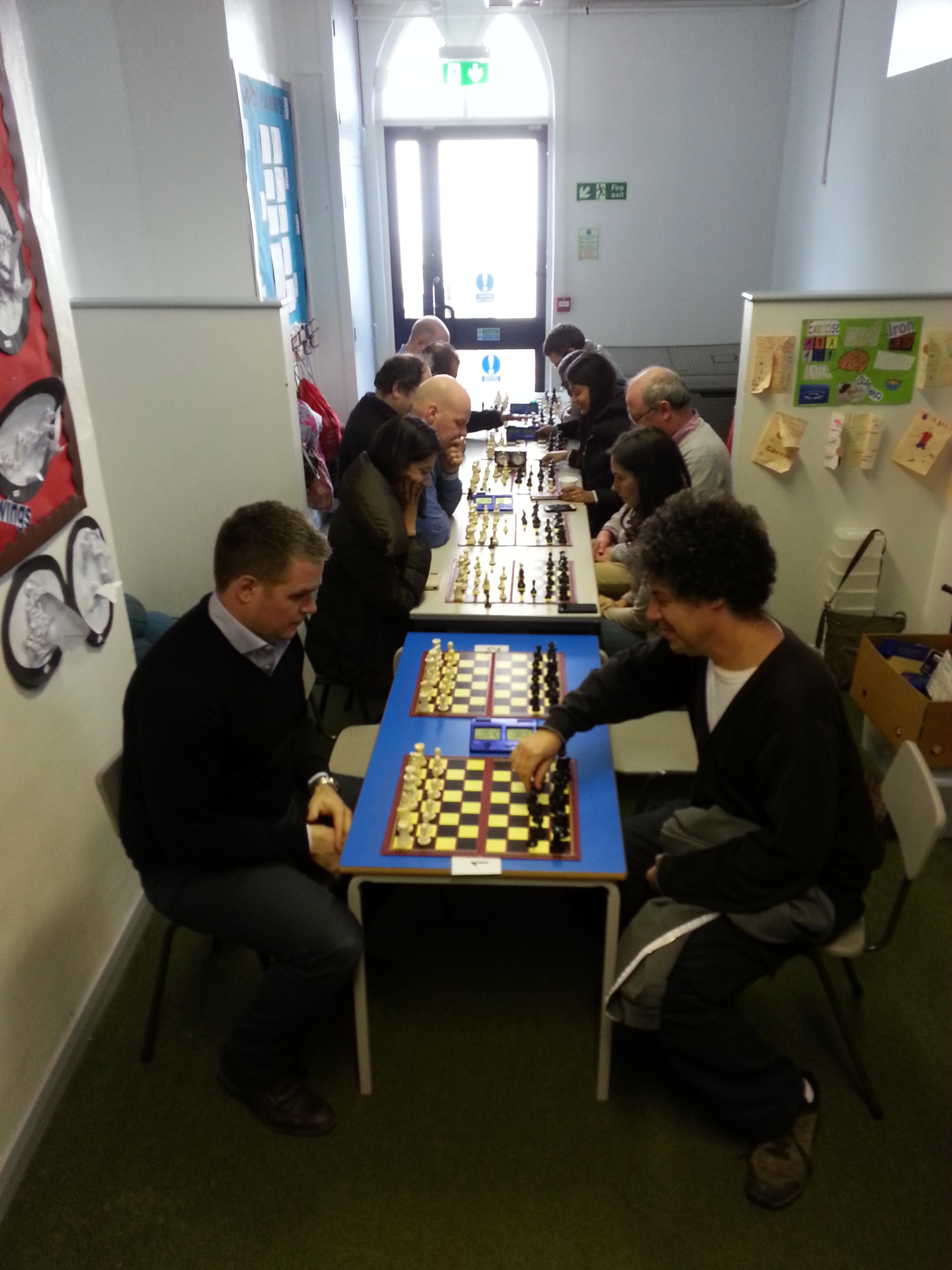 The photo above shows the impromptu Adults' tournament held while the girls were playing - no fewer than 16 grown-ups volunteered! We played a 4 round Blitz tournament with a surprisingly high standard. The continuing chorus of groans and witty comments enlivened the competition. In the end the youngest adult, Luka Sugita, crushed all his opponents with a perfect 4/4.
The Hall - league champions!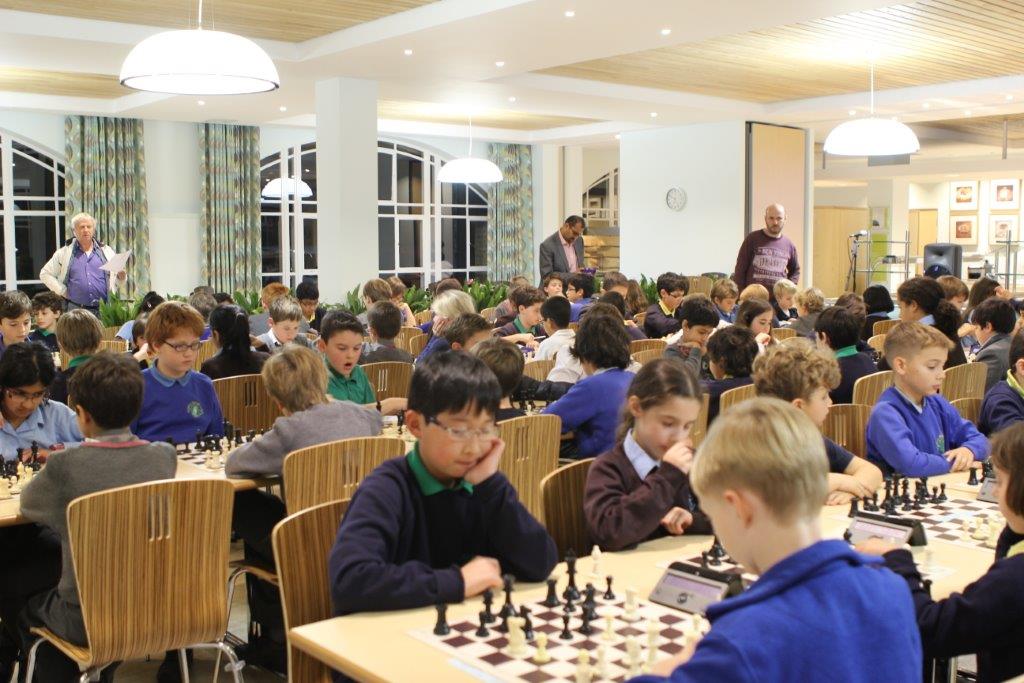 In yet another twist to the battle for the Barnet League, The Hall overtook Coldfall to become Division 1 champions for 2013-14. Brookland edged out Garden Suburb as the top Barnet school. St Paul's NW3 and St Paul's NW7 won their Division 2 matches again and could not be separated - they drew their head to head match and so share the Division 2 championship. There were trophies for the winning schools, individual gold, silver and bronze medals for all placed 1st, 2nd and 3rd and BJC badges for all the other children. Final results...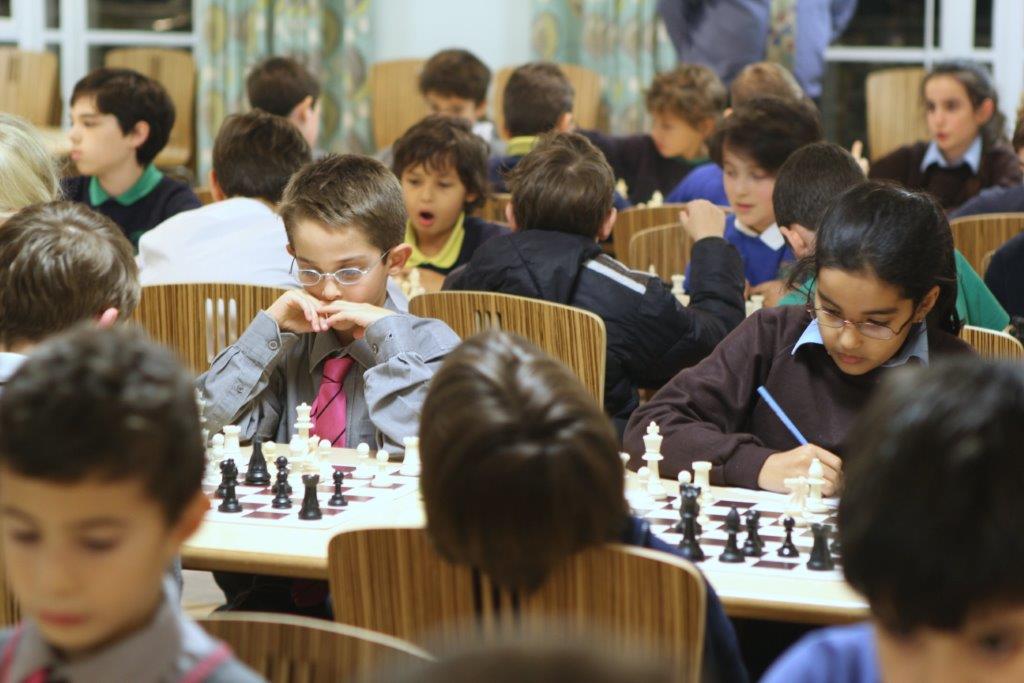 Individual Championships on 19 January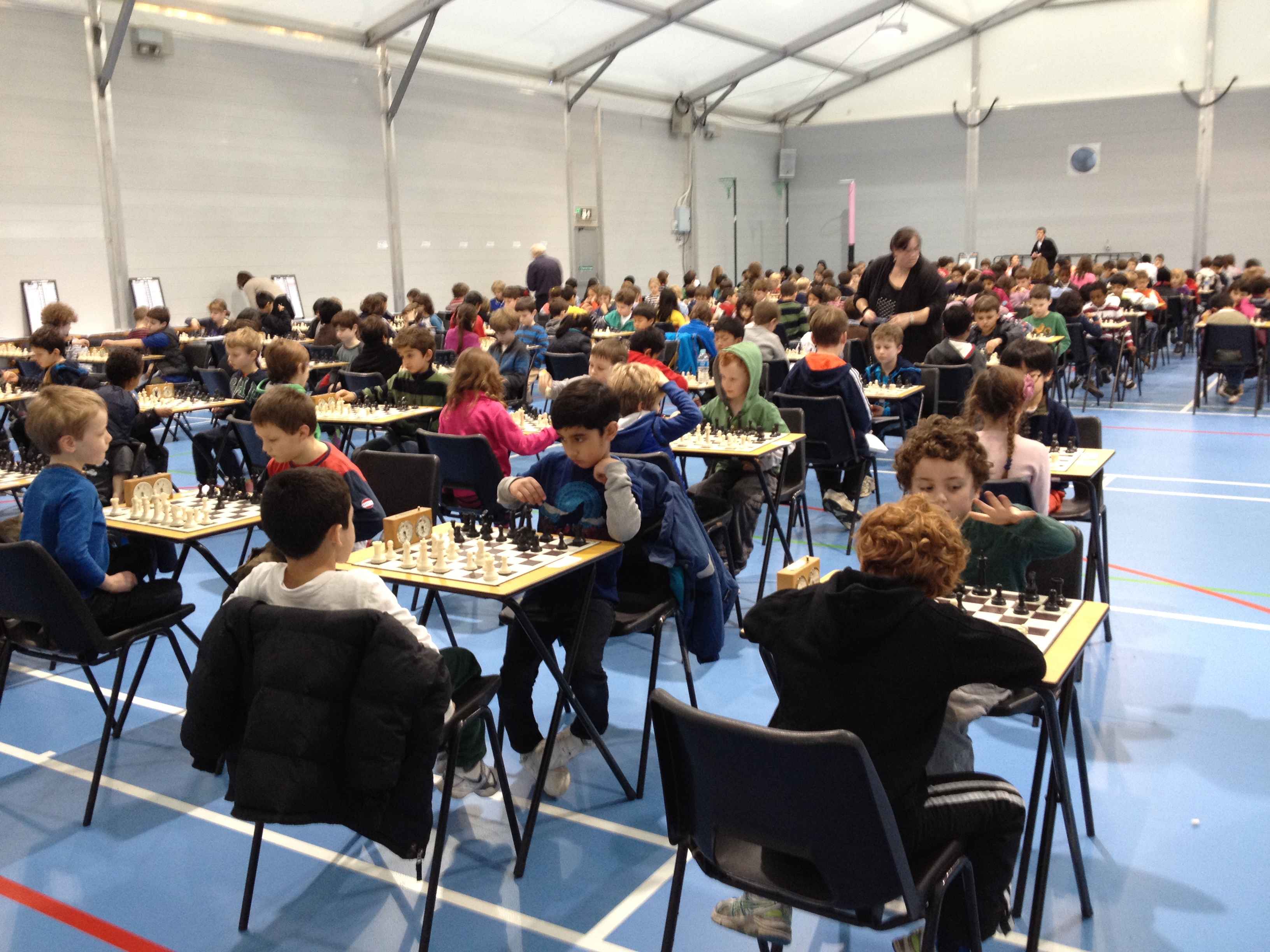 Our flagship event, the BJC Individual Championships, was held at Channing Junior School on Sunday 19 January. This very strong event attracted 180 competitors from all over London and beyond. Congratulations to all the section winners: Savin Dias (Under 7), Remy Rushbrooke (Under 9), Alexander Jamieson & Alfie Onlsow (Under 11), Oren Levene (Under 12) and Hajane Ambakumar (Under 16). More prize-winners and links to cross-tables...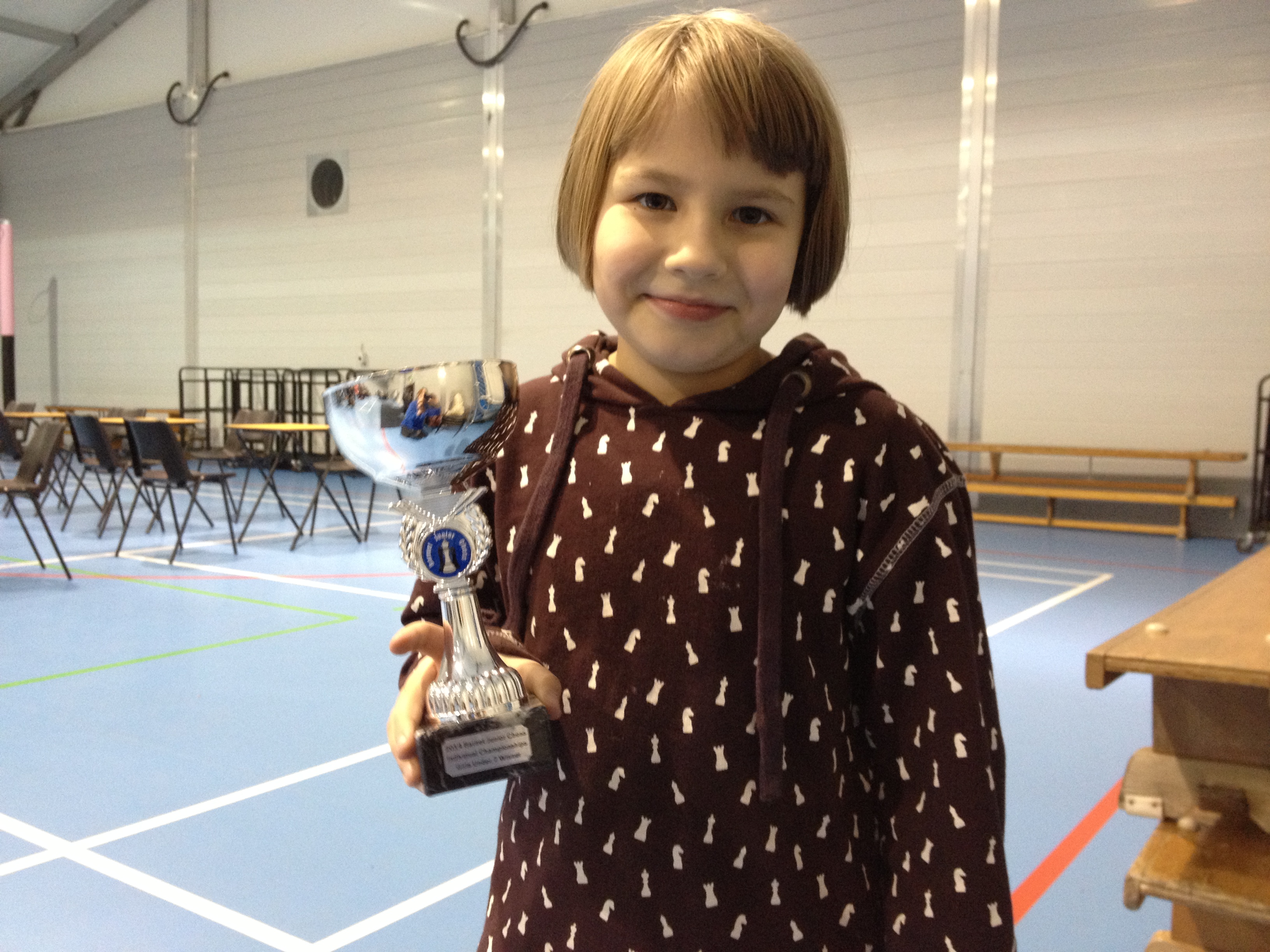 (Above) - One of the happy trophy-winners.
More photos...
Under 11 Team start the season with a win!
On Saturday 30th November, the Under 11 Barnet team travelled to Berkshire to take part in a match against teams from Berkshire, Hants and Bucks. This friendly was an all play all jamboree style event.

We had in attendance 20 players and one reserve. In the first round we scored 13.5 points, which was a great start and there were some wonderful performances in the team. The 2nd round was even better with a score of 15 points. By this point we were sure none of the other counties could catch us, which was proven when the players scored another 14 points in the last round. This gave a total of 42.5 points and we ran away clear winners.

Congratulations to those all who took part in a very well organised friendly. We even had some players playing for their county for the first time. So a big well done to all players.
BJC awards to Primary Schools
We regularly make awards to Primary schools in the London Borough of Barnet to help them with the costs of professional coaching. Read more...
Primary Schools League 2013-14
The final meeting will be held on Wednesday 12 February. We will play the final round, round 5, and present prizes for all the children.